Activities for the Winter Season
As the temperature drops, and the fall sports season comes to an end,
students are now looking for new sports to do outside of school.
According to Logan Mallone the Truckee High principal, currently, over 325 students are enrolled in a fall sport. Last year 69% of the student body participated in a fall season sport. Now that the season is coming to an end, students are going to have more free time and they are going to look for new things to do. 
Sidney McIntosh, a sophomore cross country runner for Truckee High, states that she is interested in participating in a winter sport such as XC skiing for the Truckee High team. She wants to make sure she stays in shape. "It's important to me that I stay busy and active throughout the winter so that I can be ready for lacrosse in the spring."
Truckee is a small town but there are many outdoor activities that you can do during the snowfall. Some sports include skiing, snowshoeing, snowboarding, ice skating, hockey, and more. There are also indoor alternatives such as going to the gym, swimming, indoor hockey, and rock climbing.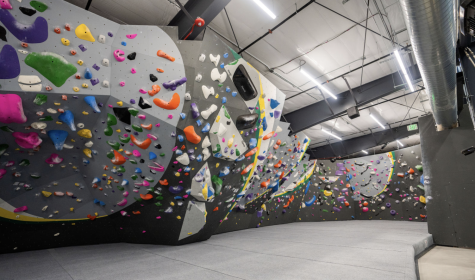 Jaden Bluestein, a sophomore, states that she has a gym membership to a local gym in town called High Altitude. During the winter she will go to the gym after school to rock climb and work out. She highly recommends getting a gym membership at High Altitude because it is a great way to stay active and the gym is close to Truckee High. Bluestein states; "Also it is a great way to stay social because many students who go to Truckee High have a membership including most of my friends. Having a membership at High Altitude is a good way to be social and active at the same time." 

Grace Hajduk, a junior, states that after school she plans on going to the Truckee Community pool at the Rec Center to swim laps. "Swimming is a really good activity to do to be active and to take your mind off things if you have had a stressful day. For me, it's super therapeutic and it's my favorite sport." Truckee's Rec Center pool is indoors so you don't have to worry about being cold in the snow. 
There is a myriad of options in our area to stay active and enjoy your free time during the winter. Students such as McIntosh, Bluestein, and Hajduk all recommend taking this time during the winter to work on athletic goals and strive for things that you enjoy doing.
Leave a Comment