Profile of a German Exchange Student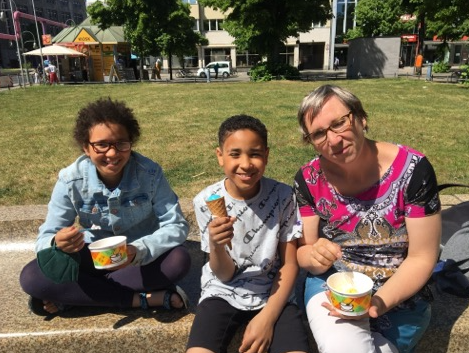 Imagine…
Approximately 5,506 miles away from Truckee High School sits Berlin, the capital of Germany. Home to nearly 4 million people, Berlin is nine times the size of Paris. Imagine traveling from that bustling city to our mountain town where the language, climate, time zone, and country are all foreign to you.
15-year-old Carla Davis, a German exchange student at Truckee High, doesn't have to imagine. Carla was born in Berlin to German parents. It is her first time visiting Truckee and her fourth time in the United States She is staying with her cousin, Truckee High sophomore Becca Brown.
Carla always knew she would end up visiting Becca's family in the U.S. Her friend from Berlin was attending 10th grade in Finland this school year, another factor that aided her decision to come to Truckee High. Having a cousin in town made it much easier for Carla to enroll and transition into the new environment.
Last year in Germany, Carla attended Freie Waldorfschule Kreuzberg (FWSK). She has noticed a lot of differences between FWSK and THS, one of them being standing for the pledge of allegiance in Student Success. "We never did anything like that in Berlin," she states. While it is completely normal for most THS students, the reciting of the pledge was completely alien to Carla. 
Back home, Carla could get on a train to quickly and easily access the whole city and the surrounding areas. Our rural town is more spaced out, making Carla appreciate the independence and freedom she had due to the public transportation in Berlin.
Another difference between life in Truckee and living in Germany was the school schedule. At FWSK, Carla's school day went from 8 am until 4 or 4:30 pm and there were no after-school activities organized by the school. All assignments were completed in class, but Carla prefers our block schedule and shorter days so she can participate in other activities before dark.
Both of Carla's parents live in Berlin along with her two younger siblings and three guinea pigs. The thing that she misses the most about Germany is her younger sister, Ella. Their close age (15 and 13) resulted in a strong relationship between the two.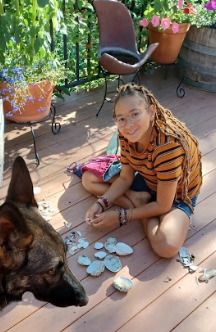 Carla is a very bubbly individual with a cheerful personality. "I really enjoy it here," she says with her usual smile and no sign of homesickness. Carla already wants to stay another year. 
When she was younger, Carla was an avid gymnast, but now enjoys playing soccer and listening to music. She is fluent in English and German and knows a bit of Russian and Spanish. Outside of school, she can be found playing the cymbals in Truckee High's band, listening to pop music like One Direction and Ashe, or attending her AYSO team practices and games.
Post high school, Carla has it all figured out. After graduating, she wants to study social work and then become a police officer. When she retires, Carla wants to work with children by teaching preschool or helping out with foster care.
5,506 miles away from Truckee is the city of Berlin, home of Carla Davis and her origin story. She is using her sophomore year in America to its fullest, taking in our radically different culture with foreign eyes. 
Imagine hopping on a train on your way to your first day of school in Berlin where you don't know the language and are completely out of your element.
Leave a Comment