Taylor Swift's Midnights: An Explanation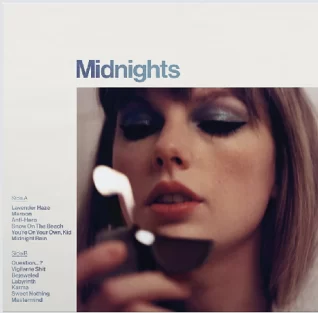 Taylor Swift's new album, Midnights, was released on Friday, October 21st. Swifties from all around the world waiting impatiently for the new music, looking for hidden clues in every social media post about the release. When Midnights was released, so many people went to their music apps that some platforms suffered momentary crashes and even deactivated accounts as they tried to process all the requests. 
Everyone is entitled to their own opinions. As it turns out, people have some strong ones about Taylor Swift. People who miss her country era, the ones who think she has no talent, and of course, the ones who think she's been "passed around a lot." But, where would we be without misogynistic men who can't recognize a woman's talent? That's a topic for a different story. 
Midnights seems to have a slightly different ring to it than most of Swift's other albums. Although yes, some of the songs are about past relationships and loves, many of them are about how the world sees her and how she is perceived as one of the most successful female music artists in the industry. "It's nostalgic. Reminiscent, I found myself feeling bad for her", says English teacher Mr. Close after reacting to the album with his daughter. 
Once Swift released Midnights (3am Edition), Swifties were sent into a massive spiral. This extra edition of the album includes 7 new songs, all unexpected, even to the ones who see every easter egg, in every caption and music video that Swift posts. 
Without fail, this album will make you feel a wide range of emotions in the span of 44 minutes and 8 seconds. Some songs will hit you where it hurts like Sweet Nothing or You're On Your Own Kid. Others will make you feel like you're on top of the world. Swift's lyrics will make you feel something, regardless of your circumstances or your opinion of her. 
This album has been breaking records left and right since the moment it was released. It sold 1.3 million album units in the first 4 days, while most albums don't sell that much in the first week. 
It is the largest streaming week ever for an album by a female artist. With over 357 million streams on both audio and video clips, becoming Spotify's most streamed album and artist in a single day. And, the biggest album ever released globally on Apple Music. The title of best fans ever goes out to you this year, Swifties!
Midnights are for the ones who stay up late because no one else is awake. The ones who cried when listening to "Bigger Than The Whole Sky" and the ones who scream to "Vigilante Shit" in their cars while feeling the lyrics in their souls. The ones who deep down are always in their "Reputation" era. And lastly, the ones stuck between staying young and growing up. 
Leave a Comment